Welcome to the 6th Oslo Balboa Weekend
31.08-2.9 2018!
Shuffle-start the autumn season in Oslo with two days of classes and three nights of balboa dancing!

Andreas Olsson and Olga Marina
Olga Marina is from Moscow and was born into a family of teachers and since early years has been an energetic live wire – studying music, doing athletics, martial arts and gymnastics. Olga has been teaching and competing all over Europe and is regarded as one of the best balboa followers in Europe. Andreas lives in Stockholm. He has been teaching, competing and performing Balboa, Lindy Hop, Charleston, Collegiate and St. Louis Shag internationally for more than a decade. Andreas is regarded as one of the top Balboa teachers and dancers of the world.
As instructors, Andreas and Olga emphasize partnership, musicality and follow-leading abilities. Their ambition is to create playful classes filled with interesting footwork, figures, fun tasks and laughter.
Anna and Nejc
Anna's life as a dancer begins in her teens with square competitions in Ballroom and latin-american dances. And it still adds to her repertoire today. Because Anna is most happy when she is able to mix all the dances: Lindy, Bal, 20s Charleston, Collegiate Shag, One Step, Peabody – or whatever the music is asking her to do. Anna's principal goal in class is to empower followers to dance (instead of follow only). Anna likes to lead as much as she likes to follow, because she has a mind of her own. And that's very visible when you watch her feet…
Nejc Zupan is one of the founders of the new swing age era in Slovenia and started swing dancing back in 2004. He is one of the main culprits in popularizing lindy hop in Slovenia in the early 2000s. His swing dance experience is a collection of many international workshops. Nejc uses experience from modern movement theatre, music and classical theatre to bring a fresh and fun approach to teaching and developing swing dance. He pays special attention to jazz moves and musicality, both essential to swing dancing. Since 2010, he has been teaching different swing dances – Lindy hop, Balboa, Charleston, Blues – at the Dansa dance school and has extensive experience with teaching abroad in international workshops. He has also competed in many international competitions, winning quite a few (Lindy Schock, Rock That Swing,…).
Masha Krokhina and Mickey Fortanasce
Mickey Fortanasce (USA) has been dancing and competing for the past eighteen years. During this time his innovation and showmanship coupled with his love of both dance history and theory have led him to become an internationally recognized Balboa teacher and competitor. Mickey has three victories at the Balboa Rendezvous' International Balboa Championship (2006, 2007 and 2010) as well as All Balboa Weekend's American Classic Balboa Championship (2008), routine division (2011) and IBC (2016). Mickey has taught extensively in the US, Canada, Europe, Korea, Russia, and Australia.
Masha Krokhina is the headliner of balboa in Russia. Finalist and winner of numerous Russian and international competitions. Has been teaching regular classes in Moscow since March 2007, while constantly conducting workshops all over Russia and classes during balboa weekends and exchanges in Switzerland, Denmark, Finland, Czech Republic, Belgium, Spain, Estonia, at Paris Balboa Shag Festival, Studio Hop Summer Camp, Tiny Balboa and numerous balboa weekends in France, at Rock That Swing Festival, and Balboa Castle Camp in Germany. Masha tries to expand and enrich her dance experience through all other swing dances (especially lindy-hop and blues) plus salsa and argentinian tango.
While teaching, she practices an individual approach to each student, strives to pay attention to details and exercise precision in technique, and most of all – to inspire musicality, creativity and personal style in her students
Jazzombies
Jazzombies plays classic jazz tunes by musicians such as Fats Waller, Benny Goodman, and Louis Armstrong, as well as originals by David Skinner, and is comprised of some of the best swing musicians Norway has to offer. Jazzombies plays jazz clubs and festivals in addition to being the favorite for Norway's biggest swing dance events like Oslo Balboa Weekend and Winter Jump. The group prides itself on creating dancer-friendly dynamic and rhythmic contrasts, while always swinging hard and keeping the dancefloor busy.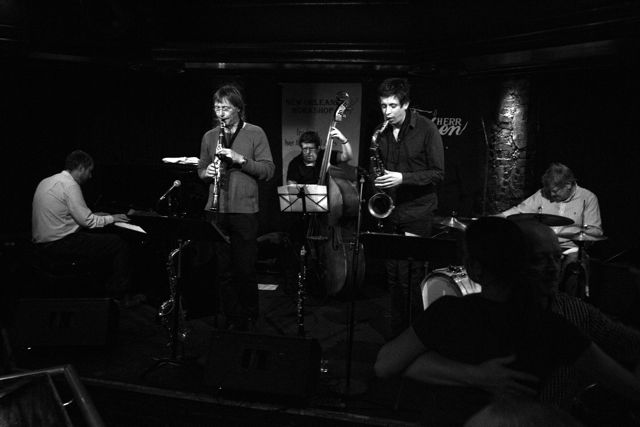 Magnolia Jazz Band

Magnolia plays a joyful New Orleans Revival Jazz, an outgoing style of music that combines traditional jazz, gospel and rhythm and blues. Magnolia look forward to share their beat and warm sound with us!
Magnolia Jazzband celebrated its 45th anniversary in Oslo Concert Hall in 2017. The band was started by Trombonist Gunnar Gotaas and is today one of Norway's oldest bands in continuous operation.
Magnolia Jazzband has toured In Denmark, Sweden, Finland, Germany, Switzerland, The Netherlands, Belgium, France, England, Spain, Italy, Russia, Singapore, Dubai and Colombia. In 2012, the band was invited to play at the United States largest jazz festival – the New Orleans Jazz & Heritage Festival. The musicians of the Magnolia Jazz Band have made several pilgrimages to New Orleans, the birthplace of the jazz, and some of the 14 albums that have been published have been recorded there.
Levels
The workshop will have four levels. The top level will be split by audition.
A
You have been dancing balboa for quite some time on a regular basis, probably for at least a year both taking classes and social dancing. You are comfortable and confident with the basic steps and patterns like Up Hold, Down Hold, Out and In, Toss Out, Lollies and Swivels, and know a few variations. At this level you will learn several variations and figures, and work on improving the flow in your dance.
B
You have been dancing Balboa for a long time, and have probably been to a few international workshops. Your basic is solid and you know quite a few moves, footwork – and rhytm variations. But you are still eager to learn more! At this level the teaching pace will be faster and you will be digging deeper into lead and following skills, more challenging moves, rhythm variations and fine tuning your basic.
C/D
At this level you know your stuff and you can play with musicality, make variations and dance to slow, medium and fast tempoes. You can adapt to and inspire any partner from beginner to advanced. This level will be split into two groups by audition.
Registrations opens May 21st 21:00
Please note that we have a no-refund policy, but you are allowed to sell your pass. This requires the new participant to have the same level, and you should contact us so that we can update the registration
Preliminary Schedule
Friday
Registration and party 20-01
Live music with Magnolia Jazz Band
Venue: BLS, Nordahl Bruns gate 22
Saturday
Registration
Audition 1000-1030
Classes 1030-1615
Party 20-01
Live music with Jazzombies
Venue: BLS, Nordahl Bruns gate 22
Sunday
Classes 1000-1600
Tea dance until 21 at Kulturhuset
Link to map of the venues can be found here.
You can contact us at oslobalboaweekend@bardarswingclub.no