Oslo Balboa Weekend
1. – 3. September 2017
Welcome to the 5th Oslo Balboa Weekend!
Shuffle-start the autumn season in Oslo with three days of classes and parties

Andreas Olsson and Olga Marina
Olga Marina is from Moscow and was born into a family of teachers and since early years has been an energetic live wire – studying music, doing athletics, martial arts and gymnastics. Olga has been teaching and competing all over Europe and is regarded as one of the best balboa followers in Europe. Andreas lives in Stockholm. He has been teaching, competing and performing Balboa, Lindy Hop, Charleston, Collegiate and St. Louis Shag internationally for more than a decade. Andreas is regarded as one of the top Balboa teachers and dancers of the world.
As instructors, Andreas and Olga emphasize partnership, musicality and follow-leading abilities. Their ambition is to create playful classes filled with interesting footwork, figures, fun tasks and laughter.
Mel and Jo Calanglang
Mel and Jo are dance enthusiasts who dedicate their time to encourage swing dancing in the UK. Currently, you can find them social dancing and competing at various events across Europe and the US.
Jo has been athletic since she was a teenager and currently holds a brown belt in Xen-Do Martial Arts. Mel, who also accomplished medals in various sports, was a break-dancer and a DJ in his younger years. From this personal experience, they apply the techniques of physical motion to help them understand and master the nature of dance movement. Their "down-to-earth" and positive attitude helps to make the classes they teach not only informative but also very enjoyable.
Masha and Alex
Masha and Alex are the headliners of balboa in Russia. Finalists and winners of numerous Russian and international competitions. Have been teaching regular classes in Moscow since March 2007, while constantly conducting workshops all over Russia and teaching together and with other partners (Frederic Barbe (Canada), Olivier Harouard (France), Albert Ferran (Spain) and Mickey Fortanasce (USA), Olga Bulatnova (Russia), Maria Pashinskaya (Russia)) at swing dance events in Russia, Ukraine, Belarussia, Estonia, Switzerland, Denmark, Finland, Czech Republic, Belgium, France, Germany, Spain.
Alex has been devoting his life to balboa for 11 years now. He is known for his sophisticated footwork and a recognizable dance style, and won love of the followers from different points on the globe. Alex is strict, but fair. Secretly dances a bit of lindy-hop, can be forced to do a swingout.
Masha tries to expand and enrich her dance experience through all other swing dances (especially lindy-hop and blues) plus salsa and argentinian tango. While teaching, she practices an individual approach to each student, strives to pay attention to details and exercise precision in technique, and most of all – to inspire musicality, creativity and personal style in her students.
Jazzombies
Jazzombies plays classic jazz tunes by musicians such as Fats Waller, Benny Goodman, and Louis Armstrong, as well as originals by David Skinner, and is comprised of some of the best swing musicians Norway has to offer. Jazzombies plays jazz clubs and festivals in addition to being the favorite for Norway's biggest swing dance events like Oslo Balboa Weekend and Winter Jump. The group prides itself on creating dancer-friendly dynamic and rhythmic contrasts, while always swinging hard and keeping the dancefloor busy.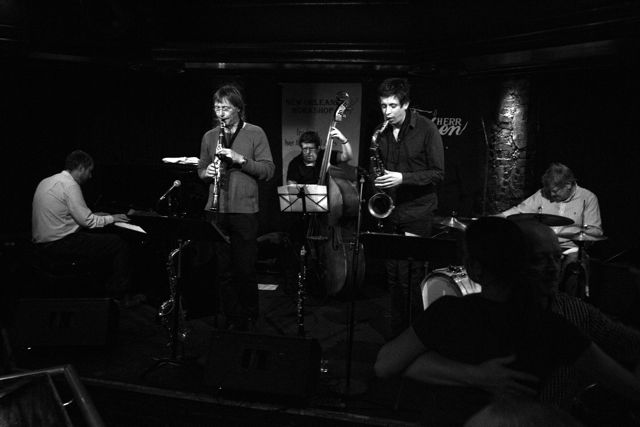 Oslo String Swing Collective
Oslo Stringswing Collective consists of established musicians with love for Django Reinhardt's unique approach to jazz. The members of the Collective live in Oslo, but play regularily in Paris, where this music genre is born and still blossoms. There, they sit in bars and play with French guitar virtuosos, surrounded by the smell of food, coffee and wine. They bring this atmosphere back to Norway.
Levels
New for this year, we have added another level so the workshop will have four levels. There will not be an audition, but levels will be set based on the dance background information you provide in the registration form. Please be honest and help us create the best and most levelled groups. We reserve the right to move participants to another level if we think it's best for the participant and for the overall level.
Beginner/Intermediate
This is the level for those who have basic knowledge of Balboa. You are happy social dancing Balboa to music with a moderate tempo. You have learned the basic concepts and patterns, but are not always completely comfortable with them. At this level we will work to get the basics in place, laying the foundation for variations and fun patterns. You already know Up hold, Down hold, Come Around, Paddles, Out and In, Toss Out and Lollies.
Note: This is not a beginners class.
Intermediate
You have been dancing balboa for quite some time on a regular basis, both taking classes and social dancing. You are comfortable and confident with the basic steps and patterns mentioned above and know a few variations. You can dance well to both slow, medium and faster tempo. At this level you will learn several variations and shapes, and work on improving the flow in your dance.
Intermediate/Advanced
You have been dancing Balboa for a long time, and have probably been to a few international workshops. Your basic is solid and you know quite a few moves, footwork – and rhytm variations. But you are still eager to learn more! At this level the teaching pace will be faster and you will be digging deeper into lead and following skills, more challenging moves, rhythm variations and fine tuning your basic.
Advanced
At this level you know your stuff and you can play with musicality, make variations and dance to any tempo. You can adapt to and inspire any partner from beginner to advanced. You are probably among the best dancers in you area and are maybe a local teacher.
Workshop fee is NOK 1250, this includes 6 hours of classes and all parties. Early birds will get a reduced fee of NOK 1100, this is valid for the first 10 follows and the first 10 leads who sign up.
Party pass fee is NOK 400, this includes all parties
Registrations open May 21st at 20:00
Please note that we have a no-refund policy, but you are allowed to sell your pass. This requires the new participant to have the same level, and you should contact us so that we can update the registration
Preliminary Schedule
Friday
Registration and party 20-01
Live music with Oslo String Swing Kollektiv
Venue: BLS, Nordahl Bruns gate 22
Saturday
Registration
Classes
Party 21-01
Live music with Jazzombies
Venue: BLS, Nordahl Bruns gate 22
Sunday
Classes
Tea dance until 21
You can contact us at oslobalboaweekend@bardarswingclub.no